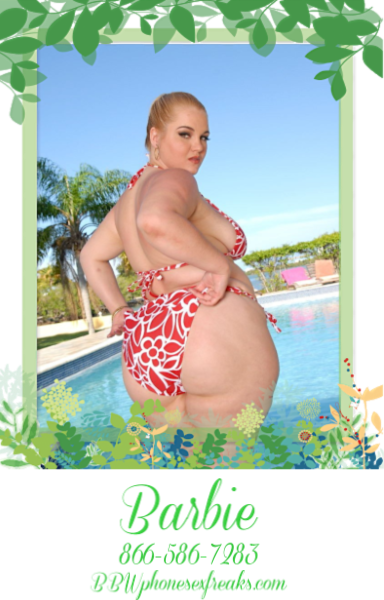 My Parents have a condo in Mexico that I go to each year, usually when it gets so cold here that my tits almost freeze off.  Last year when I went there I was surprised to find out that my Parents had a renovation done on their condo.  It looked really good, I almost didn't want to leave.  Ha!  The first thing I do when I arrive is get into my bikini and make my way down to either the beach or the pool.  A lot of women my size like to wear a cover up.  Not me, I want to show off what I have been blessed with. 
I got onto the elevator and these younger guys were on there.  I stepped into the back and both of them were snickering.  One of them said, "Do you smell bacon." They both laughed.  I said, "No, but I did see two Vienna sausages when I stepped onto the elevator." That shut them up.  I went out to the pool and there was hardly anyone there.  The two guys who were on the elevator showed up and my mood soured right away.  I can take care of myself but the last thing you want when you are trying to relax is two assholes making your day horrible.
I decided to ignore them and got into the water.  I swam around for awhile then I heard a splash.  I continued to swim and I bumped into someone.  It was one of the guys.  I said, "I'm sorry." He said, "No problem, I got in your way, my fault."  I smiled and he smiled back.  He said, "I'm really sorry about what my friend said, I told him once we got off the elevator that it wasn't cool.  I am also sorry I laughed, I hope we didn't hurt your feelings." I told him that he hadn't and that I was sorry that I said that his dick was small.  He laughed and said that they deserved that.
I heard another splash and his friend swam over to us.  Ugh!  He basically told me the same thing, that he was sorry then asked me if I wanted to join them later on for dinner since it looked like I was alone and might want the company.  I told them that would be great.  We spent the rest of the day together, we had a very nice dinner.  They were both pretty decent guys to be honest.
We got back to the condos and I invited them in to watch a movie and have a few drinks.  One of the guys had a lot to drink already and he passed out on my sofa in no time.  That left me and the other guy alone.  We went out on the balcony and just talked.  He leaned in while I was talking and kissed me.  It took me totally by surprise.  I liked it a lot.  I got up and lead him to my bedroom, he took my clothes off and I swear he put his lips on each and every part of my body.  He got undressed, climbed into bed with me and he pissed all over me.  I was like, what. the. fuck! He then rubbed his body on mine, rubbing the piss over both of us. 
His cock was getting harder and harder, he rolled off of me then said, "Piss on me now." Okay.  I straddled him, spread my pussy lips and let loose.  The bed was drenched!  I got on his cock and rode him hard.  He came inside of me then asked if he could piss inside of me.  I said sure.  In a couple of minutes he was spraying his golden juices all over my pussy and pressed inside me to finish the stream.  He then got down between my legs and sucked out the cum and piss.
After he was done he showered and I showered.  I was trying to think of how the hell I was going to get the bed to dry out, when he told me he would make sure a new one was delivered tomorrow and so I wouldn't be embarrassed he would be here when it was delivered and explain that his little brother had some trouble with wetting the bed in case they asked.  He held true to his promise and not only did him and I spend a lot of time fucking that week, we even were able to have a threesome with his friend, minus the surprise piss fest.