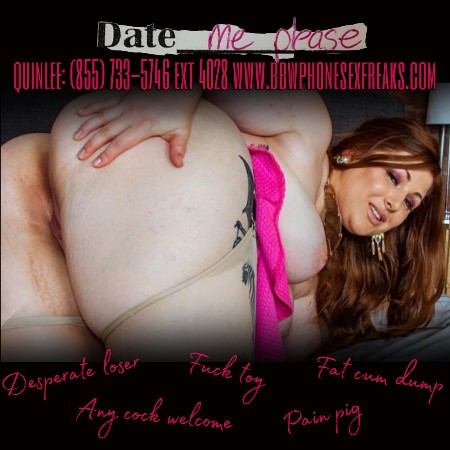 Jason had Ice join in and listen to me whimper and plead.. She laughed at me about being a fat sloppy Cock sucking whore who doesn't deserve any attention from men.. I tried babbling on about how there are actually men out there who find women like me beautiful.. My back talk only got me in more trouble.. I was forced to shove cans of vegetables up my ass and taunted for being a desperate loser. They insisted they were going to go to waste anyway.. "a fat slob like me doesn't eat vegetables".. They were right!
I mean they have been sitting in my cabinet waiting for an apocalypse that probably won't be happening anytime soon. So, I guess they were put to good use.. I was sick to my stomach hearing some chick with fat Gigantic tits pick on me.. I was hoping to have Jason reconsider and let me do the torturing but of course he never shows any remorse for a fat slob like me..
I am nothing but a worthless fat pig! He even said I offer Phone sex specials out of desperation because I can't get a real man even if I tried.. I have been single for 4 years and my pussy has had nothing but big fat rubber dicks! I guess he is right… I am nothing but a fat cow who deserves the torture that he makes me endure!